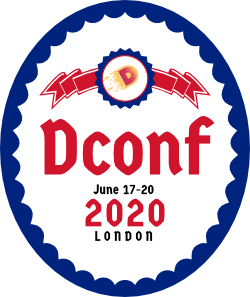 To kick off the year of double 20's (or double X's if you prefer), the D Language Foundation is excited to announce that DConf 2020 will return to 99 City Road for a second round in London! We had such a great time last year that we were over the moon when we heard that our DConf 2019 hosts and sponsors at Symmetry Investments were willing to do it all again in 2020. The venue's Sinisa Poznanovic will be back live streaming the talks on the D Language Foundation's YouTube channel, and all of the talks will once again be recorded in HD via the capable hands of the Stage Engage crew.
Since DConf 2013, our annual D gathering has taken place each year in May. This time, we're breaking tradition by running the conference in the middle of June. Our usual three days of talks will take place June 17th – 19th, followed by our annual DConf Hackathon on the 20th. There's a reason we picked these dates, but it's tied to an announcement I hope to make some time in the next few weeks. My fingers are crossed that things work out the way we intend and that I can make that announcement sooner rather than later.
Early-bird registration will open in the near future. From now, we're accepting submissions. If you've got an idea for a talk or a panel, don't be shy. It doesn't matter if you're a D veteran or a D noob, if you've spoken at multiple DConfs or spoken at none (or never spoken in public at all). We're eager to see submissions from any and all, but we're particularly interested in seeing some new faces at the lectern this year. If your talk gets selected, you can plan your trip to London and, as a speaker, you'll be eligible for reimbursement for the cost of your transportation and lodgings. If your talk doesn't make the cut, you lose nothing. So head to the DConf 2020 web site for the details and send us your submission!
Additionally, we're currently working out the details of a potential event peripheral to the conference itself. If all goes well and the plans come to fruition, I'll announce it here as soon as I'm able (otherwise, I'll have just teased you for no reason whatsoever). We've also got an eye out for opportunities like the walking tours we organized before the conference last year. I don't know which ideas or opportunities will materialize this year, but I do want you to know that we're looking.
So start making your plans, send your thanks to Laeeth and Symmetry Investments (if you're so inclined) for taking on a second DConf and for everything they've done and continue to do for the D community, and send us your submissions!